Updates on Security and Safety Initiatives
Interaction with Police Commissioner PCPC
Interaction with Commissioner PCPC Mr Ankush Shinde was held at HIA Office on 30 May 2022.
The Police Commissioner was introduced to HIA and the problems faced by RGIP employees on aspects of security, law and order ad traffic were put forth
The requirement of CCTV and the long follow up that has been going on was also explained to the Police Commissioner..
The Police Commissioner has assured that he would push the matters faster and ensure closure of pending projects.
A few pictures from the event:
INDUCTION OF NEW BOLERO INTO JSTF FLEET
An ageing vehicle in the JSTF fleet was replaced with a brand-new Bolero vehicle. The deployment was carried out at a small ceremony at HIA on 15 Dec 2021. The Mr Balkrishna Sawant ,Senior Police Inspector Hinjawadi Police Station was given the honour of undertaking the coconut breaking ritual.

Members attending the Members Meeting at HIA participated in the proceedings. The new vehicle immediately joined the fleet after this ceremony.
A few pictures from the event:
MEETING CHAIRED BY POLICE COMMISSIONER PCPC AT HINJAWADI INDUSTRIES ASSOCIATION- 05th Oct 2021
As a follow-up to the meeting held by Palak Mantri Shri Ajit Pawar and Smt Supriya Sule, Member of Parliament about a fortnight ago on the issues of Hinjawadi-Maan and Rajiv Gandhi Infotech Park (RGIP), the Police Commissioner PCPC, Shri Krishna Prakash, IPS chaired a meeting at Hinjawadi Industries Association (HIA) on Tue, 05 Oct 2021..

The meeting was attended by all stakeholders viz, Gram Panchayat members of villages around Hinjawadi, officials of PWD, NHAI, PMRDA and MIDC and representatives of HIA members companies.-


The Managing Committee HIA welcomed the Police Commissioner and the Additional Police Commissioner to the event. Col Charanjeet Singh Bhogal, Chief Operating Officer HIA then gave a detailed presentation on all infrastructure aspects to be discussed. There was active participation and contribution from all officials and it was agreed to speed up all processes and activities to make the goal of world class infrastructureat RGIP and in the surrounding villages, a reality.

A follow up meeting to pursue the projects would be held shortly..
A few pictures from the event……....
VISIT OF MR SANDIP BISHNOI, IPS COMMISIONER OF POLICE PCPC TO HINJAWADI INDUSTRIES ASSOCIATION ON 30 SEP 2019
A meeting and interaction with Mr Sandip Bishnoi, IPS Commissioner Police Pimpri-Chinchwad was arranged at HIA Office for familiarising him with HIA and the challenges faced at RGIP. Col CS Bhogal , COO HIA first briefed the Commissioner on the organisation of HIA, the initiatives undertaken and the support provided to the police authorities. He also highlighted the infrastructure issues and difficulties plaguing RGIP including roads to RGIP and their conditions. He then brought out the support expected from the Police Commissionerate Pimpri Chinchwad in reducing the problems of employees at RGIP with regard to commute and traffic snarls.

The discussion covered various aspects pertaining to RGIP. The important ones discussed were as under:-

A. CCTV Surveillance. CP suggested that while we wait for the CCTV Surveillance under Smart City to take shape, HIA could take initiative and deploy stand- alone CCTV cameras at all high-risk spots to address crimes like mugging, traffic violations, etc.
B. Request for Inventory Support. CP requested HIA to consider support to Police (Traffic and Law & Order) under Hinjawadi:

I. Raise the str of Traffic Wardens from 10 to 18.
II. Additional road barriers as per requirement that would be put forth by ACP Traffic.
III. Issue Florescent jackets and LED batons to Traffic Wardens
IV. Face masks for the wardens.
V. Create Oxygen Bars for the traffic cops and wardens, post their duty they can inhale oxygen and rejuvenate.
VI. Tow vans for the traffic div Hinjawadi.
VII. Increase the authorised mileage of the JSTF QRTs. Usage to be reviewed.
HIA management expressed their apprehension to provide any new equipment as equipment provided on earlier occasions was not taken care of. However HIA agreed to consider the requests. CP directed his staff to take all equipment so provided by HIA on charge and account for it. Monthly report of the same be prepared and shared with his office and HIA.

CP requested HIA Security & Safety Committee and Police Team to discuss and work on varied requirements and changes required. Report to be submitted by ACP Traffic to CP within a week. The CP also stressed that every traffic bottleneck must be studied separately and a specific solution for each bottleneck created for enforcement.
C. Road Infrastructure Development. CP asked PCMC, PWD, MIDC and NHAI officials to make a dedicated effort and resolve the issues of bottle necks and other impediments on the roads in their areas of responsibility.

The CP then interacted with employees who had gathered in the HIA Hall. Important aspects concerning everybody were discussed with the CP and his team of officers. Subjects ranged from how could one approach the police authorities in case of any difficulty or to convey a point, issues of rampant wrong side driving, haphazard parking on main roads, traffic bottleneck at Sus Gaon, the BuddyCop Initiative, necessity of WhatsApp number of PCPC for complaints, movement of heavy vehicles during restricted hours, haphazard parking of buses and cabs in the Phase -3, to inaction by Police on vehicles with tinted glasses and without number plates, were discussed. The CP patiently heard the complaints and gave directions to his officers to mitigate the difficulties.

The event concluded with informal interactions over hightea.
HINJAWADI INDUSTRIES ASSOCIATION (HIA) PRESENTS VEHICLE JAMMERS TO ASSIST TRAFFIC POLICE HINJAWADI
Hinjawadi is plagued by unruly parking of both two and four wheelers that cause traffic congestions and movement problems for pedestrians. In association with traffic police it is sought to correct this situation. HIA has thus procured 100 vehicle jammers at the cost of over Rs. two lakhs for utilisation by Traffic Police, Hinjawadi.

At a small ceremony held at HIA, the jammers were presented to Ms Neelam Jadhav, ACP(Traffic) Ppimpri Chinchwad Police Commissionerate. Speaking at the occasion Dr Satish Pai, President HIA hoped that the roads would see less unruly parking in the days to come. He also immensely thanked Mr. Kishore Mhaswade PI (Traffic) Hinjawadi and his team for the extremely difficult and challenging work they were undertaking, and for their dedicated efforts in making the traffic movement much smoother through implementation of one-way circuits and manning of important cross roads and junctions.

The Managing Committee HIA, Security and Safety Committee and the COO of HIA were present at the ceremony
A few pictures of the event……..
Q3 2018 PSP MEET HOSTED BY HINJAWADI INDUSTRIES ASSOCIATION
Hinjawadi Industries Association (HIA) hosted the 2018 third quarter meet of Pune Security Professionals (PSP) at HIA, RGIP on 26 Oct 2018. The event brought together security professionals from companies across Pune including those from RGIP, Hinjawadi.

After the meet and greet, where participants informally interacted with each other. Mangesh Kate, Founder member of PSP, welcomed the delegates and participants. The event commenced with the audience being introduced to PSP and its journey from inception. Mr Mangesh Kate during conduct of this part emphasised the role played by all members to enable growth of the organisation.

Col Charanjeet S Bhogal (Retd), COO of HIA then briefed the audience about the role and growth of HIA and explained the various initiatives being taken by the organisation. Lt Col Yogesh Joshi (Retd), Chairperson Security and Safety Committee of HIA highlighted the efforts of the Committee in keeping RGIP safe and secure.

The first formal event of the day was the presentation by the decorated ACP Crime Branch Pune Police, Mr Bhanupratap Barge. In his inimitable style the ACP explained how security should be taken into consideration right from the beginning of every project and be made a part of our lives. There were some questions from the audience which he gladly answered.

Post a break for interaction and photo-session, there was a panel discussion conducted on the subject of – "Security escort in office transport and the issues/ factors related thereto". The panel discussion moderated by Purvesh Gada, Associate Dir PwC was very well received by the participants. Panellists were from different companies that included Credit Suisse, Infosys, AllMiles, TCS, Wipro and Cognizant.

Finally, Mr Ganesh Bhamburkar delivered the Vote of Thanks and conveyed his appreciation to all participants for their enthusiastic contribution to the event. The event concluded over high tea and informal interaction. Some pictures from the event……….
VISIT OF COMMISSIONER OF POLICE PIMPRI-CHINCHWAD TO HINJAWADI INDUSTRIES ASSOCIATION ON 11TH SEP 2018
1. The Police Commissioner of the newly formed Police Commissionerate at Pimpri –Chinchwad, Mr RK Padmanabhan, IPS visited HIA along with his team and interacted with the officials and employees at Rajiv Gandhi Infotech Park Hinjawadi.
2. Accompanying the Commissioner was his team comprising the following:-

a. Mr Makarand Ranade - Addl Commissioner of Police


b. Ms. Namrata Patil - DCP


c. Mr. Dhakane - DCP


d. Mr. Shridhar Jadhav - ACP


e. Mr. Shivaji Gaware - Sr PI Hinjawadi


f. Mr. Kishore Mhaswade - PI Traffic Hinjawadi



3. The HIA was represented by the following officials:-

a. Mr. Sacheen Ratnaparkhi - Head TCS


b. Mr Kedar Paranjpye - Member Managing Committee HIA


c. Col Ravindra Tolety - Member Managing Committee HIA


d. Mr Srinivas Tata - Member Managing Committee HIA


e. Mr Shekhar Sonasale - Treasurer, HIA


f. Col Yogesh Joshi - Chairperson Security and Safety Committee


g. Maj Mayank Gupta - Co-Chairperson Security and Safety Committee


h. Mr Srinivas Kabbe - Tech Mahindra


i. Col Charanjeet S Bhogal - Chief Operating Officer HIA



4. The meeting commenced with felicitation of the Commissioner and the Addl Commissioner, this being their first visit to HIA.

Introduction to RGIP and Security Aspects.
5. Col Yogesh Joshi gave a brief background on the Hinjawadi Industries Association and the work jointly being done with the Police. The Commissioner was also informed about the members and office bearers of the Managing Committee.
6. Col Yogesh Joshi highlighted the various Security Challenges facing RGIP and explained the contribution of HIA in supporting the police force – both civil and traffic. He elaborated upon the following support being provided to the Police by HIA:-
a. Joint Security Task Force of 3 QRTs with one policeman and three commandos operating over 100 kms monitoring activities and covering all companies in RGIP.
b. 15 wardens being given to Police Traffic Dept for traffic control.
c. Provision of traffic control material - 150 barriers , 100 traffic cones and 1000 meters of chain link for control of traffic

7. Finally, Col Joshi explained the efforts being put over last four years for including RGIP into the CCTV surveillance grid. He brought out that the file was with MIDC and the work needs to start early. It is presently stuck on a policy matter with MIDC.
Briefing on Road Infrastructure and Approaches to RGIP
8. Col Charanjeet S Bhogal, Chief Operating Officer then took the floor to bring out the various approaches to RGIP and the challenges being faced. The road avenues, bridges and also the challenges being faced on each road were explained in detail over map and slide.
9. Col Bhogal ended by asking for support from the Commissioner and the Police department in terms of pushing for projects desired by HIA.

Points from the Police Commissioner
10. The Commissioner stated that the Commissionerate was less than a month old and it was his ninth day in office. However, despite the manpower shortages and other deficiencies he is determined to take the required decisions to improve the security on all fronts.

11. Personnel Security. While appreciating the security systems within the companies, he said that there was a requirement of having frequent drills to keep the employees ready to face any security situation. Employees must also be trained to look after their security and be aware of the systems that would help them in this regard. He asked the ACP to conduct drills within the campuses and record the reactions of the employees.

12. Cyber Security. The Commissioner enquired about the Cyber Security within the companies and assured that his force would soon be poised to take on any cyber security complaints. Explaining his background as Director IT at SEBI, he said that he was very well aware of the challenges and hence able to address the problem better.

13. Traffic Issues. The Commissioner said that he was seized of the issue and had already put in place some measures for reduction of traffic snarls. The one-way rotary at RGIP is working well and he is also in discussion with agencies to make a bigger rotary around Hinjawadi incorporating areas around LaxmiChowk, Vinode Wasti and Bhumkar Chowk. Once finalised , this will be intimated to all concerned.

Town Hall
14. About 100 employees of various RGIP companies had assembled at HIA Hall for an interaction with the Police Commissioner.

15. The Police Commissioner set the ball rolling by explaining to the employees the importance of their personal security and the measures that they should take to keep themselves safe. He asked them to be prepared for an eventuality and train themselves to respond well. The Commissioner also elaborated upon the cyber security threats and the need for vigilance in this area. Asking employees to be disciplined on the road and observe traffic disciple, he said his force would do all that is possible within the means available to him to improve the traffic condition at Hinjawadi.

16. The Additional Police Commissioner then spoke to the employees explaining the formation of the new Commissionerate and the challenges of manpower and resources that were being faced. He said that notwithstanding their challenges, the Police are all set to provide the security and road traffic control measures to enable a better life at RGIP.

17. The floor was then opened for suggestions from employees and was very well received. The interaction was open and fruitful.

18. The Commissioner explained that all requests would be looked into and those feasible would be enforced immediately. Others would be studied and implemented as possible. He also said that he would continue to have such meetings to constantly check progress of our endeavours.

Vote of Thanks
19. Col Charanjeet S Bhogal, COO HIA thanked the Police Commissioner and his team for sparing their valuable time and coming over to HIA to share their views and also listen to the employees at HIA. He said that HIA too would give all possible support to the Police to make our lives on the streets and inside the campuses safe and secure.
20. The meeting was then declared closed. A few pics from the event…….
TRAINING OF JOINT SECURITY TASK FORCE (JSTF)
Training for Joint Security Task Force was held on 09 June 2018, from 0930 hrs to 1040 hrs . The training was conducted by Mr. D. D. Jadhav Training Officer from Unique Delta Force.

16 Commandos attended the training.

The training focussed on the following aspects:-

1. Turn out and General Discipline.
2. Values of Uniform and discipline.
3. Principles of Security Awareness.
4. Proper dressing and haircut of Security Supervisor and Security Guards.
5. Proper discipline and regular attendance on Duty.
6. Positive view for the entire people working under one roof.


7. First AID

a. Explanation of the term First Aid and its uses.


b. Type of medicines to be used for minor injury and its application.


c. Training on a Burn due to any reason which may not so serious, what to apply and how to take prevention while on minor burn.


d. Actions in case of serious burns. Consult the nearest hospital by calling EMS or Ambulance.


e. CPR (Cardio-Pulmonary Resuscitation) on emergency cases.


f. Actions in case of a person suffering heart attack.


g. Precautions taken on Snake Bite, how to keep safe until you reach the nearest Government Hospital.
Some pics of the event…..
CREATION OF BUS LANE AT HINJAWADI
In continuation of the joint endeavour of Hinjawadi Industries Association (HIA), MIDC andTraffic Police, Pune to improve the traffic congestion in Hinjawadi, a bus lane has been created with 100 traffic barriers presented by HIA to Traffic Dept. Pune.

The inauguration and deployment ceremony was attended by Mr Ashok Morale, IPS, DCP (Traffic) Pune Police and Mr Anil Patwardhan, President HIA among a host of other dignitaries.

The barricades deployed during the launch ceremony seek to create a corridor exclusively for use by buses during peak hours in the morning from08:00 AM to 11.30 AM. This will help reduce the congestion on the road and contribute to smoother flow of traffic. A permanent median is planned by MIDC in the near future for this corridor; till then these barricades would be used for this purpose. HIA has also procured Traffic Cones and Link Chain which would be utilised to create an additional two-wheeler lane across the road only duringthe peak traffic hours in the morning.

All these measures are being taken to make the commute faster and smoother for the over 3.5 lakh employees and others travelling to RGIP, Hinjawadi daily.
VISIT OF POLICE COMMISSIONER PUNE TO HIA –LAUNCH OF BUDDYCOP APP
Ms Rashmi Shukla, Commissioner of Police, Pune visited the HIA office at Hinjawadi on 24 Mar and interacted with the Head HRs as well as the HR and Security Managers of the HIA member companies. The event was marked to announce the launch of BuddyCop, an app designed to ensure the safety of women employees.

Before the interaction, there was a presentation explaining the various aspects of BuddyCop and how the same would be rolled out. The functioning of the app and its operational details were explained as also the responses that would follow from the police. All women employees actively participated in the question-answer session clarifying their doubts and queries.

The Police Commissioner elaborated that the success of this endeavour would depend on participation from the environment and enthused the employees to contribute to its success by opting to be volunteers in the project. She explained that the various qualifications and requirements of the volunteers were laid out in the Pune Police website and asked everyone to visit it.

BuddyCop would be rolled out shortly and will help enhance the safety of RGIP employees, especially women working at various companies.
(a) Rapid Reaction of HIA JSTF at Hinjawadi.
A mock exercise to test the reaction to 'Pratisaad App' of police was carried out by reporters of Lokmat newspaper. While reactions at other places in Pune were slow, police at Hinjawadi along with the JSTF vehicle deployed by HIA in conjunction with civil police reacted within 10 mins. The lady reporter using the Pratisaad app intimated a problem situation to the police department at 1.55 pm. Despite the lunch hour going on, the police and JSTF Commandos were quick to react and reached the spot at 2.10 pm – within a span of 10 mins. This quick reaction is entirely due to the close synergy between Civil Police and the JSTF commandos of the HIA.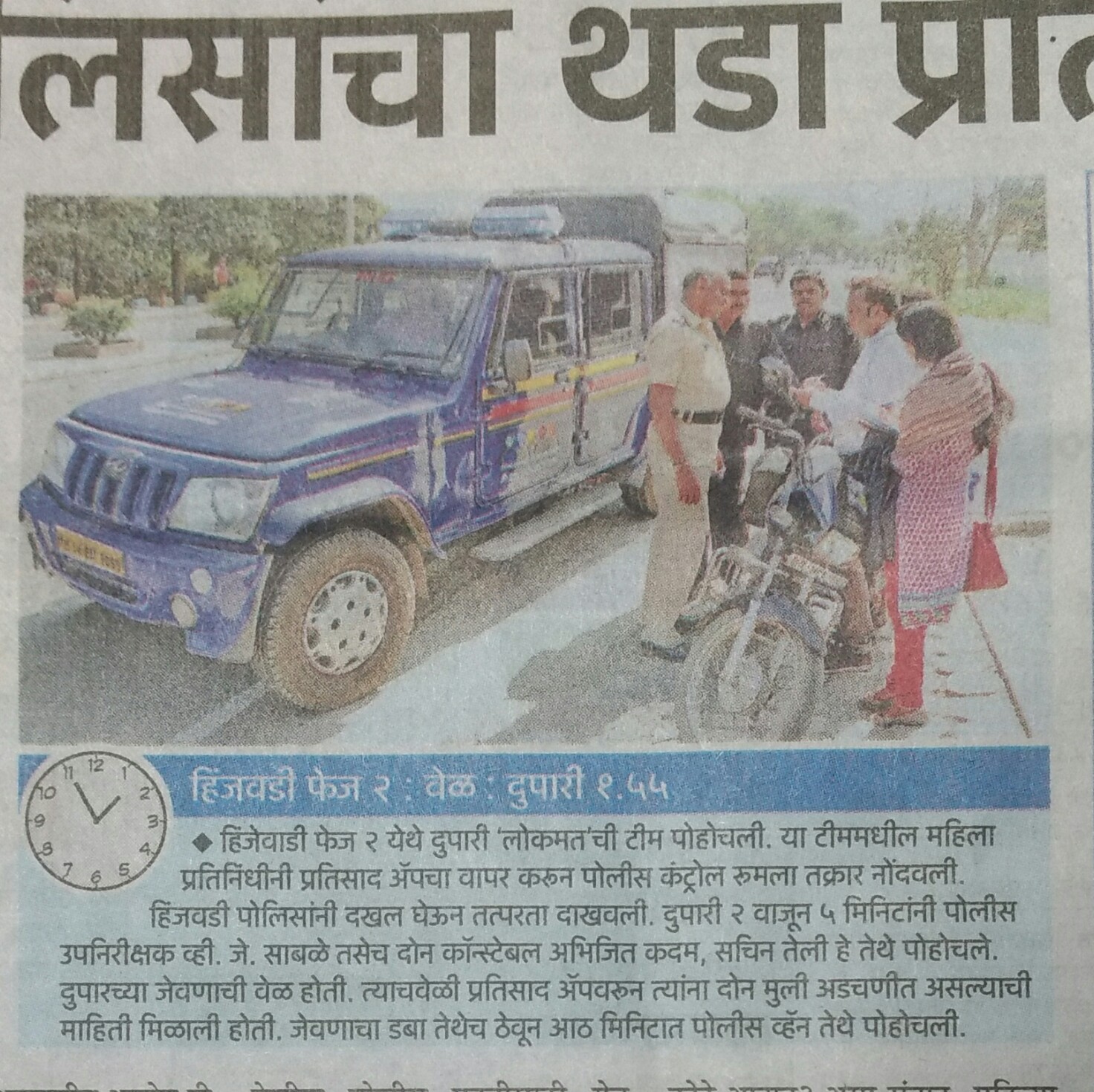 (b) Instructions to Download the Pratisaad App of Maharashtra Police.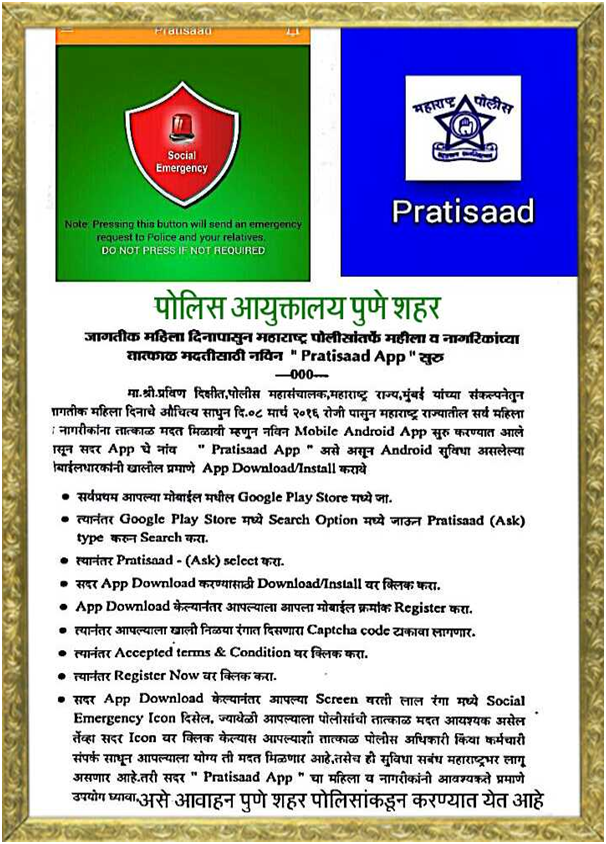 (c) Poster by Hinjawadi Police Station on Safe Parking of Vehicles and Prevention of Thefts.
(d) Dos and Don'ts for Womens' Safety – Issued by Police Department.
COMMON TIPS – APPLICABLE AT ALL TIMES( BY POLICE DEPARTMENT)
Whatever be the situation or circumstances, there are some constants that are applicable to women's safety and security these are as follows: -


Women should be highly concerned about own security especially during vulnerable time as at night and at sensitive locations.
Mental strength may be more important than physical power, develop a strong will to resist male advances. As noted female activist, Malala Yousafzai said, "If 10 men stare at me in the market I just stare back at them (and they wilt away)".
Develop an instinct for trouble and take evasive measures.
Inclement weather, night, darkness or odd hours are vulnerable times for any woman as much as but more so than others are.
Isolated places increase level of vulnerability. These can be secluded buildings, parking lots, staircases or even lifts.
Cyber space has created a new set of challenges for women, be fully cognizant of the threats in use of social media and internet fraud.
Getting away or escaping from a situation is more sensible than confronting it, remember a cat has nine lives because it skillfully escapes death the other eight times.
Take a self defence course if possible and at least some form of exercise that will help keep fit and active thereby evading force.
Nobody is immune to being violated there are examples of women violated in the most affluent homes.
DO'S FOR WOMEN
Do be aware and accept that women are more vulnerable and the phenomenon is not restricted to India.
Seek information and develop awareness of local security and safety situation for women in the city, town and the locality in which you live.
Do be culturally sensitive in your behavior or while dressing, based on the place you are visiting or time of day. This is plain common sense.
Do wear clothes and footwear that help in running or escaping quickly especially when going to an outdoor event or at night where you are likely to be vulnerable.
Do keep an eye for suspicious men or women lurking around, avoid taking lifts offered by stranger(s) and avoid traveling in near vacant public transport system.
Do alert the security or raise alarm in case you encounter a suspicious person or vulnerable situation.
Do save emergency numbers on your phone and ring these regularly to check that they actually work especially when you travel from one city to another.
Do download application that sends distress messages from your cell phones, test it a number of times including reaction of the people on the other side so that they are prepared to help you in an emergency.
Do inform your travel routine particularly at night and odd hours; ask for call back from relatives or friends at fixed times without having to call up.
Do inform office security staff and home in the case of a breakdown of an office cab or when you are the last passenger to be dropped.
Do keep your car or scooter in the best condition to avoid a breakdown particularly if you are likely to travel at night. In case of a doubt take alternate means of transport.
Do have a hammer or rod in the glove compartment to break open the window in case of a being locked in the car in the case of an emergency.
Do equip your car with emergencies when you are going long distance
Do ensure you lock your car from inside while traveling at night.
Do take the elevator instead of stairs unless the elevator is occupied by a suspicious person(s).
Do get off from the elevator in case a suspicious person gets in and you are alone.
Do lock and latch your house at all times and do not open the door to strangers. Install electronic alarms amongst other safety devices.
Do plan your outstation travel in such a way that you arrive at the destination even if it is your hometown during day light hours. In case you are arriving late call a relative or friend to pick you up, do not hesitate to cause them inconvenience.
Do hire cabs from standard travel companies who rent radio cabs with GPS. If staying in a hotel, hire a cab from the hotel renting service.
Do check the safety and security arrangements when staying in a hotel room. Prefer rooms with electronic keys and check who holds duplicates.
Do be cautious in making new friends while traveling particularly male friends.
Do have only relatives, well-known and reliable friends on Facebook, who are long time acquaintances, scrupulously avoid making, "friends," with strangers on social media.
Do use social media as Facebook and Twitter for keeping your friends informed of your whereabouts.
Do travel in women only compartments or buses where these are provided. Avoid common facilities.
Do keep items as a whistle to raise an alarm, pepper spray and strong flash light in your purse. You can also use your purse as a weapon in an emergency. Practice using these.
Do keep your visiting card in your purse so that in case of an accident, your identity can be established.
Do know vulnerable points of the male anatomy in case you have to use force, these are mainly groin, throat, eyes and knees.
Do learn to use your elbow, knees and fingernails these are strong points of women and can hurt when it strikes the right spots.
Do keep a pet dog, if fond of pets and if you have to move out of the house take the pet where feasible especially at night.
Do educate your female children to reject physical contact by strangers and report the same immediately on occurrence.
Do ensure proper lighting of entrance to your house or flat. The exit side should be at least 60 percent more luminous than the entrance so that you are able to clearly see a person outside without exposing yourself.
DON'TS FOR WOMEN
Do not hesitate in strongly objecting to misbehaviour the first time it happens, if you ignore it once it will only encourage the person towards more objectionable conduct later.
Do not visit a suspicious location alone and never at night or in the evening hours.
Do not travel alone at night as most Indian cities are unsafe, single travel at night in suburbs should be particularly avoided.
Do not travel in public transport alone, in case you find yourself alone it is better to get down at a safe place rather than continue the journey especially at night. Ring and seek help.
Do not join protests or crowds unless you are in a strong multi gender group, molestation is a common complaint at such events whatever be the cause as anti socials may take advantage.
Do not make unnecessary eye contact with strangers, but when doing so display confidence. Exchanging frequent glances with strangers can be misinterpreted.
Do not engage in conversation with a strange man; discourage small talk particularly if you are alone.
Do not show unnecessary sympathy for a stranger and beware of a ruse, sometimes women decoys are used by criminals to lure female victims.
Do not establish routine in terms of timings or route while going for work or for a walk, change your timings and routes frequently as far as possible.
Do not hesitate in reporting a suspicious person, activity or object or raising an alarm as loudly as possible and call for help to dissuade a potential attacker. It is better to end being sheepish then sorry. Shout 'BACHAO BACHAO' or words to this effect
Do not give up if under threat or attack, look for the earliest opportunity to escape.
Do not show fear, assailants are encouraged by persons who panic.
Do not use ATMs to draw money at night or in early morning hours when alone.
Do not carry large number of credit cards at any one time, loss of purse may lead to compromise of your accounts.
Do not wear expensive jewellery especially chain or heavy gold bangles when alone or display it. If you have to wear jewellery remove it after the event rather than displaying it while traveling especially at night.
Do not carry jewellery while traveling, artificial trinkets can serve the same purpose.
Do not accept food or drinks from strangers especially while traveling.
Do not consume excessive alcohol or allow your male companions to do so at social events which can expose you or create vulnerability.
Do not drive after consuming alcohol or allow your male companions to do so.
Do not allow your social behaviour to be mistaken as making advances by men.
(e) Instructions To Commute SAFE for all employees in RGIP
BE ALERT, BE SAFE.
THOUGH EVERY SITUATION WOULD BE DIFFERENT,
ONE CAN MINIMIZE THE RISK BY QUICK THINKING.
Commute SAFE (Smart, Alert, Focused, Educated)
Use public transport and avoid unauthorized private transport.
Do not accept lifts from strangers.
Try to stay on well-lit roads with traffic & avoid poorly lit by lanes.
While driving on lonely roads, do not stop to entertain queries from strangers.
Do not stop at isolated places.
Keep the doors of your vehicle locked while driving.
Do not lower your window if you are stopped by strangers.
If you have to open the window, open it only as much to allow communication, and not allow outsider to reach the ignition key.
In case you are being pursued try to drive to the nearest police/fire station or to a crowded public place.
Ensure that 100 or your Emergency contacts are on fast dial.
Dial 100 immediately to seek help from Police in case of a likely mugging situation.
Keep a record of IMEI No. of your mobile phone, so that the Police is able to track it.
Should this happen to you, please inform the POLICE (100)with following details:

Your name and mobile number. Your company name and Employee ID
The make and color of your vehicle, along with your registration number
The make, color, and registration number of vehicles being used by assailants
Any other details that may help Police identify your assailants
Your location in reference to a prominent landmark
SAFETY WEEK CELEBRATIONS AT HIA
Safety Week was celebrated by HIA & Its Member Companies with a number of activities. The Safety Week commenced with the pinning of badges onto the COO, HIA Col CS Bhogal and other staff at HIA. Drivers of Metrozip buses also took an oath pledging to follow the rules of safe driving to ensure accident free commutes.
A Drivers Training on safe driving was conducted as part of the Safety Week events. All drivers from Metrozip, Metrozip Green and Metrozip Delight participated in the training held at Tata Technologies Limited.

Training of Traffic Wardens
Training for Traffic Wardens was conducted at HIA on 30 Dec 2016. HIA sponsored traffic wardens have been working in conjunction with the Hinjawadi Traffic Police for controlling traffic within RGIP and have done a commendable job of easing traffic congestion, since their deployment on the crowded roads at RGIP.

As part of their regular refresher training, Mr Datta Poman highlighted the important aspects of a warden's duty. He explained the requirement of remaining alert and reiterated the various ways of enforcing discipline on the streets.

Col Bhogal, COO HIA addressed the wardens and while commending their work, asked them to be always well turned out and present a disciplined image when conducting their duties on the roads.
Traffic Awareness Day – 06 Oct 2016
Hinjawadi Industries Association (HIA) and all its member companies participated in a big way in the Pune Police Traffic Branch "Traffic Awareness Day" on Thursday, 6th October. It was an all out effort with involvement of employees to stand against traffic indiscipline.

Employees came out in large numbers to show solidarity with this cause and formed a Human Chain on the streets of Hinjawadi from Shivaji Chowk to Phase 3. They also took a pledge to follow traffic rules and ensure their friends and families too are encouraged to do the same.

The programme also saw distribution of stickers and flags pertaining to traffic rules and regulations. Banners on the subject were also displayed at various places within Hinjawadi.
News & Update - Security and Safety Committee
The committee coordinated with the MIDC Fire Dept. for conduct of training in Fire Fighting & Safety in the month of June 2016 where 21 employees of HIA member companies participated and were issued with the Certificates for the same.
The Committee has also Co-ordinated with Traffic Police Dept. for undertaking training of bus drivers in the aspects of safe driving and knowledge of traffic rules
Ensures periodical refresher training of JSTF Commandoes and Traffic Wardens to keep them updated with the latest methods and techniques in their respective fields.



Training of Bus Drivers on Road Safety

A training session for Metrozip drivers was conducted by the civil police at HIA on 22 Sep 2016. About 60 drivers attended the training. This would be an on-going activity until all drivers are covered by this training.

The drivers were explained road safety procedures, good road manners, and actions on road to make their driving experience as well as that of other users of the road, better and comfortable. They were also given inputs on important numbers like Police, Fire Brigade and Ambulance.